Mango juice processing plant
The mango processing line can process a large number of fresh mangoes, and process the mango pulp into various mango products. Through the efficient work of the mango processing line, the mango pulp products can be preserved and transported for a long time. The mango processing line is very similar to the pineapple processing line, and the two fruits can use the same processing line.
Introduction to mango processing line
Fresh mangoes usually enter a controlled ripening chamber, and fully mature mangoes are then transported to the mango processing line. Mango can be processed into mango pulp, puree, juice, transparent concentrated juice, jam, jam, etc;
Mango processing system consists of washing and sorting system, threshing and pulping system, decanting and standardization system, enzyme hydrolysis and filtration system, evaporation system, sterilization system, aseptic filling system and auxiliary energy system.
The production capacity of mango processing line is 10 tons/day - 500 tons/day.
Mango juice output: about 55% - 75% (25% - 45% for peel and stone waste)
Solid content of raw materials: 10-14 sugar content, final concentration of concentrated fruit juice: 65~72 sugar content, concentrated mango.
Characteristics of mango processing line
The mango processing line adopts advanced processing technology and energy-saving technology. The machinery is made of SUS304/316L materials, and high-quality components of international brands. Provide semi-automatic and fully automatic systems.
Customized turnkey solution, including installation and commissioning. The finished mango has good quality and delicious color.
High production efficiency, flexible production, customized according to customer needs. Complete monitoring system, equipped with control room to monitor each processing stage.
Daily production can be clearly displayed.
Raw material specification of mango processing line
Initial raw material: fresh mango
Final products: mango pulp, juice, puree, paste
Processing capacity: from 60 tons/day to 2000 tons/day
Effective input: 55-75% raw fruit (25-45% as waste, peel and seed)
Fruit consistency: 10-14 Brix
End packaging: sterile bag/tin can/glass bottle/PET bottle
Finished product output: can be calculated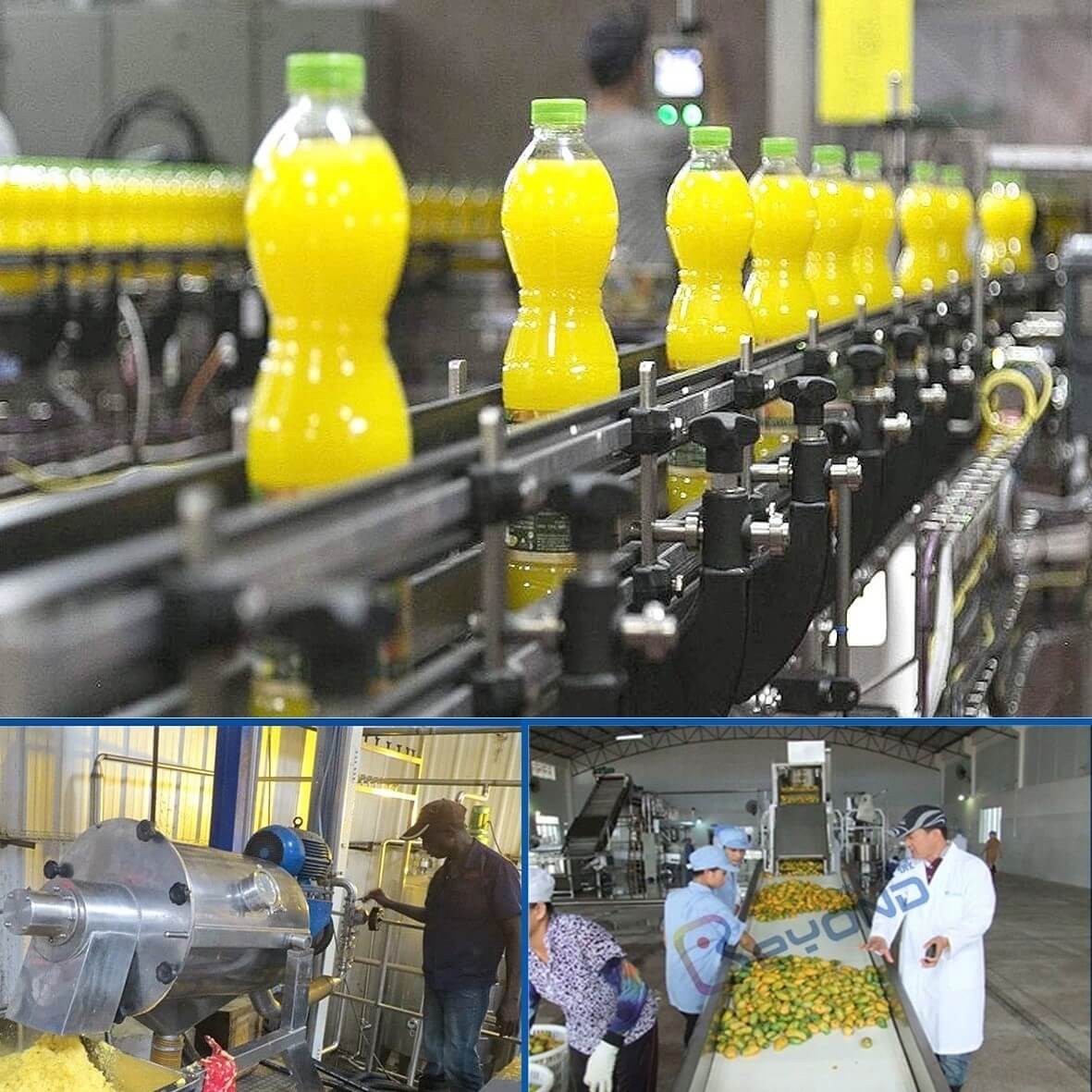 Mango processing line process
Fresh mangoes are selected as raw materials. We transport mangoes to a designated location through a hoist, and then use a bubble cleaner for comprehensive cleaning. We send the cleaned mangoes to a roller machine for manual selection, and then use a brush cleaner for mango surface treatment. We transport mangoes to a designated location through a high-level hoist, and then use a mango corer to peel and cored mangoes, The mango pulp is preheated on the new equipment to kill enzymes, then the mango pulp is refined by beating, and then the pulp is put into the buffer tank. Next, we conduct casing sterilization for the mango pulp, and then fill it in sterile vats. Finally, the finished mango pulp is processed out of the factory.
Mango processing line is an efficient and fully automatic production line, which can be designed, manufactured, installed and debugged according to customers' needs. Many successful cases of customers make you feel relieved to choose. The advanced technology we have developed will be used in mango processing lines, and the accumulated production experience will really help you to gain a dominant position in the future market competition.