Yogurt is made of fresh milk, inoculated with Lactobacillus, and fermented under suitable temperature and anaerobic conditions. After fermentation, the original lactose part is converted into lactic acid, but some lactose is still retained, so the unique sweet and sour flavor is formed.
The pretreatment of the milk is the same, regardless of whether set or stirredyoghurt is to be produced. It includes standardisation of the fat and drymatter contents, heat treatment and homogenisation. It is assumed that the milkhas been standardised to the required fat content before entering the line andstandardisation of the dry matter content takes place in an evaporator in theprocess line. If the dry matter content is adjusted by addition of milk powder,the equipment used is similar to that described under "Recombined milk". Anyadditives, such as stabilisers, vitamins, etc., can be metered into the milk before the heat treatment. When the yoghurt milk has been pretreated and cooled to inoculation temperature, the procedure for further treatment depends on whether set,stirred, drink, frozen or concentrated yoghurt is to be produced. The qualityof the yoghurt in terms of texture and flavour is essential.


Types of yoghurt: setting type, stirring type and adding various fruit juice jam and other accessories fruit flavor yogurt.
Packing form: HDPE plastic bottle, plastic cup, plastic bag, roof bag, glass bottle
Output: 2T / D-500T / D
Main equipment system

Item

Data

Composition of yoghurt fermentation system.

Yoghurt fermentation system includes: online culture addition system, ultra-clean fermentation tanks system, aseptic air system,flexible cooling system and matched pipes, valves,instruments and control programs, etc.

online culture addition system

The online culture addition system adopts the ultra-clean culture online addition method, which includes culture adding tube that
can fit different types of cultures and an aseptic filter air positive pressure protective cover that reaches a 100-level purification level

ultra-clean fermentation tanks system

The ultra-clean fermentation tanks system mainly refers to the fermentation tanks and auxiliary configuration to be used in the yoghurt fermentation process

Flexible cooling system

The flexible cooling system mainly includes a large channel low flow rate plate and a constant temperature water system. Through this system, the fermented yoghurt can be cooled to about 20℃,and the cooling temperature difference less than 5℃dT, which can
minimize the damage of the yoghurt viscosity, which can achieve better post-fermentation effect.

Aseptic air system

Aseptic air system includes SUS304 bracket, including degreasing and dewatering filter, activated carbon filter, coarse filter,sterilizing filter, steam filter; compressed air pressure reducing valve, steam pressure reducing valve, pressure gauge,temperature probes, etc., this system can be steam sterilized and CIP cleaned.It is used for the protection of micro positive pressure in the tank during the fermentation process, which can prevent the materials in the tank from being contaminated
by the outside enviroment.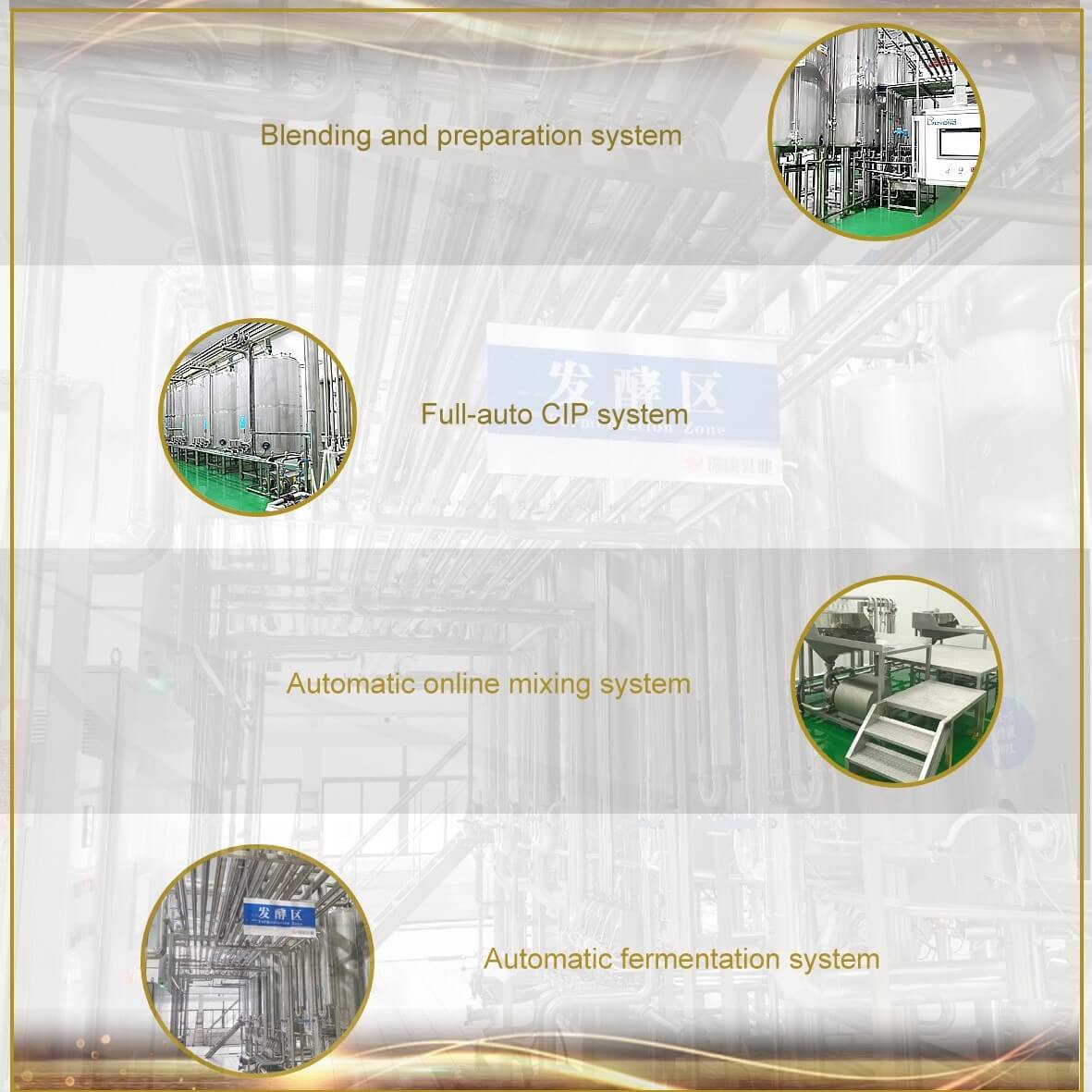 Equipment list sample of complete yogurt processing line
Equipment list of complete yogurt processing line
(

pasteurized milk/yogurt/cheese/cream/butter

)

Name

Main technology parameter

Milk receive, storage and cream separator unit

Electron pound scale

Maximum weighing 500KG

Milk weighing tank

SUS304, single layer, product feeded in through 40 mesh filter net, CIP cleaning ball

Milk acceptor

SUS304, single layer, CIP cleaning ball

Milk pump

SUS304, pump lift 24m, hard alloy mechanical seal, inner shell mirror polished

Twin piping filter

SUS304, two pipe, stainless steal filter element 100 mesh

Dish separator

Auto residue discharge

Chiling tank

SUS304, alveolate jacket, attached with compressor

Milk pump

SUS304, pump lift 24m, hard alloy mechanical seal, inner shell mirror polished

Preparing unit

Blending tank

SUS304, heat insulated, top off center vertical agitator, conical head, airtight manhole, breather valve, digital readout thermometer, anti-eddy baffle, supporters with adjustable feet

Milk pump

SUS304, pump lift 24m, hard alloy mechanical seal, inner shell mirror polished

Mini set of plate-type heat exchanger

SUS304, two stages

High speed emulsification tank

SUS304, heat insulated, bottom high speed emulsifier, digital readout thermometer,s upporters with adjustable feet

Milk pump

SUS304, pump lift 24m, hard alloy mechanical seal, inner shell mirror polished

Twin piping filter

SUS304, two pipe, stainless steal filter element 100 mesh

Sterilizing and homogenizing unit

UHT sterilizer

Tub-type, sterilzing temperature 137 C, holding time 4s, full automatic control

High pressure homogenizer

40MPa (starting box included)

Temperature holding

SUS304, holding 300s

Distributing plate

SUS304, 3 holes

Cheese/butter processing unit

Bufferying tank

SUS304, heat insulated, top off center vertical agitator, conical head, airtight manhole, breather valve, digital readout thermometer, anti-eddy baffle, supporters with adjustable feet

Milk pump

SUS304, pump lift 24m, hard alloy mechanical seal, inner shell mirror polished

Cream seperator

Bufferying container

SUS304, with cover

Milk pump

SUS304, pump lift 24m, hard alloy mechanical seal, inner shell mirror polished

Butter churner

SUS304, stepless timing

Cheese vat

SUS304, with heating jacket and insising device

Pressor

SUS304, 6 heads

Mould

SUS304, 10L, with cover

Yogurt fermentation unit

Fermentation tank

SUS304, heat insulated, top off center vertical agitator, conical head, airtight manhole, breather valve, digital readout thermometer, anti-eddy baffle, supporters with adjustable feet

Rotary pump

SUS304, hard alloy mechanical seal, manual stepless shift

Plate cooler

SUS304, single stage, milk discharge at 4C

Rotary pump

SUS304, hard alloy mechanical seal, manual stepless shift

Filling unit

Higher position tank

SUS304, heat insulated, top off center vertical agitator, conical head, airtight manhole, breather valve, digital readout thermometer, anti-eddy baffle, supporters with adjustable feet

Pasteurized milk filling machine

Yogurt filling machine

CIP system unit

Semi-auto CIP system

Outer shell of SUS304, inner shell of SUS316, single cleaning way, concentrated acid/alkali tank adding system based on US technology, 100L×2 acid/alkali concentrate tanks

CIP return pump

SUS304, pump lift 24m, hard alloy mechanical seal, inner shell mirror polished

Installation part

Whole milk processing line installation and commissioning

Feedback form contact with us