FIC2023 BEYOND Machinery Makes a Wonderful Appearance!
On March 15, 2023, the 26th China International Food Additives and Ingredients Exhibition and the 32nd National Food Additives Production and Application Technology Exhibition (FIC2023) was grandly held at the Shanghai National Convention and Exhibition Center. As a high-quality exhibitor, Shanghai BEYOND Machinery Co., Ltd. presented itself with a new and splendid appearance once again.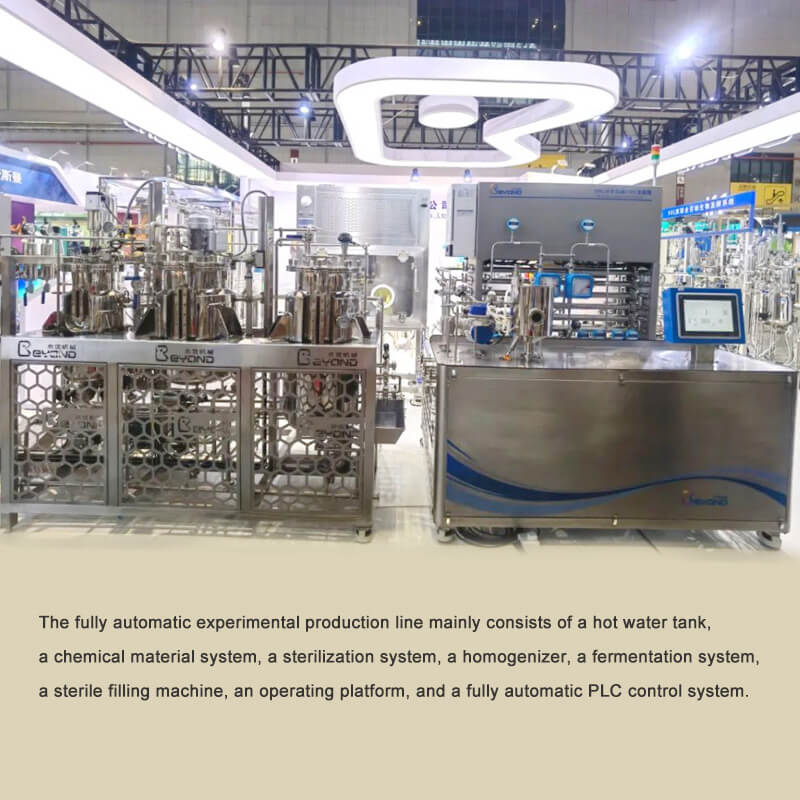 Best Equipment
For many years, BEYOND Machinery has been focusing on the field of health equipment, with products covering the entire line of solutions for the dairy beverage industry, fruit and vegetable juice industry, composite seasoning industry, comprehensive food industry, biological fermentation industry, and other industries. As a permanent exhibitor of FIC, BEYOND has made a brilliant debut with its independently developed and manufactured new automation equipment. At the exhibition, we will jointly demonstrate cutting-edge products and technologies at home and abroad with outstanding peers at home and abroad, reflecting industry development trends.
The fully automatic experimental production line mainly consists of a hot water tank, a chemical material system, a sterilization system, a homogenizer, a fermentation system, a sterile filling machine, an operating platform, and a fully automatic PLC control system.
When applied to steam free boilers and anhydrous treatment, laboratory equipment can be installed and used for small drinks, fermentation, sterilization, and filling. Processing capacity: 20L/H, 50L/H, 100L/H, mainly used for beverage formula testing - beverage ingredients, sterilization, sterile filling; Yogurt high-temperature short-term fermentation test (viable) - ingredients, sterilization, fermentation, cooling, filling, storage at 0-5 ℃; Pure preparation or preparation of sterilized lactobacillus beverage after fermentation: ingredients, sterilization and filling; Experiment on the fermentation of fruit and vegetable juice and the preparation of sterilization beverage after fermentation.
The new pressure spray drying tower with upper exhaust air is a system device with upper inlet air, upper exhaust air, wide tower body, pressure type, fog drop primary polymerization, fine powder secondary polymerization, built-in fluidized bed and external vibrating fluidized bed, and low temperature auxiliary drying and cooling functions. It is widely used for spray drying of powder products made of solutions, suspensions and other liquids containing dry matter. It is used in various fields such as milk powder, soybean powder, special medical food, additives, biology, pharmacy, chemical industry, etc.
The multi-effect and multi-process falling film evaporator is a falling film multi-effect and multi-process evaporator unit that can preheat, sterilize, and concentrate materials to reduce the moisture content in the materials, thereby increasing the concentration of the materials. It is widely used for low-temperature concentration of liquid materials in milk powder, soybean milk powder, special medical food, biology, pharmacy, chemical industry and other industries.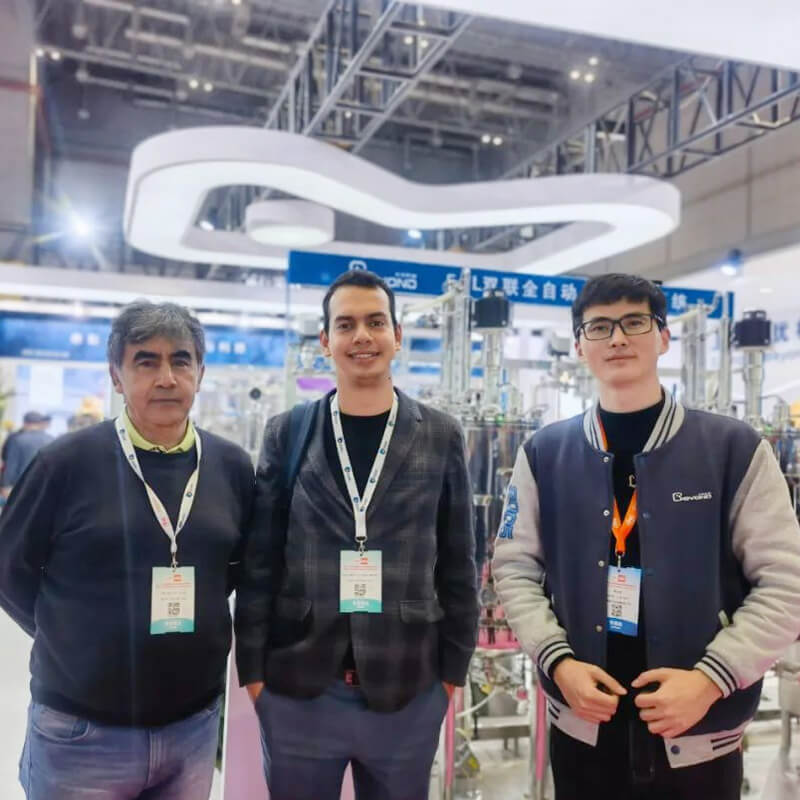 Exhibition scene
FIC2023 is returning with an unprecedented scene, and there is an endless stream of exhibitors in front of the BEYOND Machinery Booth. Our energetic sales team and company staff have always received every customer with the fullest enthusiasm!
The BEYOND team will elaborate on the equipment features, applications, systems, and services of BEYOND's innovation based on the actual situation of the customer.
Our sales team provided detailed explanations to customers regarding equipment features and usage issues.