Micro milk processing plants start from scratch
The organization of small factories for modern milk processing and dairy product production is roughly the same as that of large factories. So, why should a small farm enter this complex field? This is simple: the farther away you are, the lower the profit from selling raw milk.
What is a milk factory?
Strangely, the concept of a dairy factory is quite vague. Mini factories are usually organized on their own farms, with a free space underneath. Although the space is small, it is clean, with electricity and water, and most importantly, insulated and heated.
A medium-sized and large enterprise can already afford not to put cows aside, but to purchase raw materials from brave individuals who still provide almost free milk, or from those who sell surplus milk. Some companies also concentrate most of their dairy factories on concentrated milk.
If you need a very small factory, that is, installed in a warm shed corner, you can purchase and assemble it within a week. If we plan to start two or three processing lines in small factories, there will be more work; We need a project and a detailed business plan.
In order to put the ideas in the business plan into practice and organize all processes wisely, please hire professionals to create a turnkey factory. Choose an organization with a portfolio of projects that have been successfully implemented and operated to date. They will go to your farm or the land you rent, select suitable processing lines, purchase or manufacture equipment for them, install, install, and operate.
Usually, such a small factory will be established quickly, and the time from submitting an application to the relevant company to fully putting the production line into operation can be as long as two months.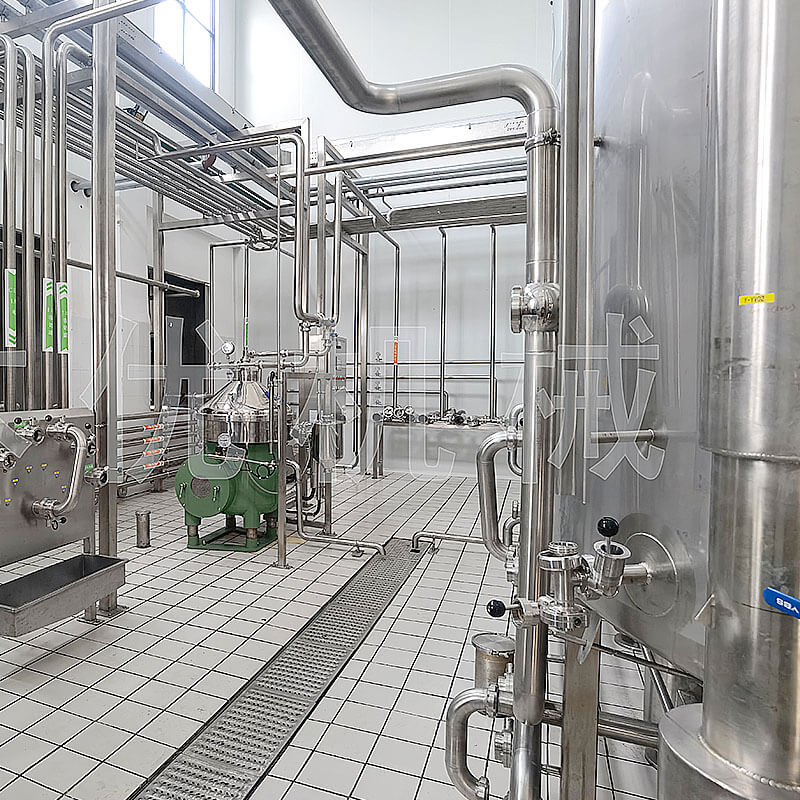 Main fixed equipment of the milk processing line:
Ice water generator;
Cooling box;
Pasteurization cooling device;
The fat content under milk is 2.5% - used for storing and calming milk, and then bottled;
Milk capacity with a fat content of 3.5% - similar storage tanks used for storing and calming milk, and then bottling;
Separators - separating fats (cream) and trans fats (skimmed milk);
Homogenizer - decomposes fat globules to homogenize milk;
Butter manufacturer - mixing butter onto butter;
Long Pasteurization Bath - Cream ripens before entering the oil press, or during the production of sour cream, sour cream, or other yogurt products;
There are various types of water vapor in the bathtub,
News truck - here, serum is extracted from white cheese;
Automatic packaging machine for sour cream and white cheese;
Automatic packaging machine for milk and yogurt;
Cheese producers - Cheese production equipment;
Air compressor.
Beyond Machinery specializes in designing and manufacturing a complete set of milk and dairy processing production lines. With our rich experience and advanced technology, customers can quickly establish market advantages and contact us immediately to obtain the latest milk processing factory design plan and quotation.
Where does milk come from
Generally speaking, small-scale dairy farms are organized on farms that already have cows, goats, or sheep. If you don't have milk, you need to arrange delivery, which requires the supplier. If you are satisfied with the quality of milk (fat, protein, and purity) from nearby farms or agricultural companies, please sign a permanent supply agreement/contract with them. Habitually checking the quality of raw materials: In order to produce good products with stable performance (which is required by the market), each batch of products must be sent to the laboratory. It's best to buy your own milk analyzer, it will be much cheaper.
Think about it, will you have enough raw milk or do you need to buy milk powder? The possibility of adding milk powder to raw milk can affect the design of the equipment - therefore, this issue is considered during the factory design phase in order to immediately integrate the milk powder recycling machine into the production line. Discuss suppliers of other product ingredients: enzymes, additives, sugar, jam, if you want to produce yogurt or sweet cheese with filling.
Milk can quickly spoil, so it must be transported from the milking farm to the processing plant as soon as possible. Milk is transported in a special tanker, so you must pay the cost of purchasing a vehicle for transporting the raw materials.
This small factory works 24 hours a day, usually transporting raw materials twice a day in the morning and evening. Yogurt oil, yogurt, and other yogurt products that require observation mature at night. According to the size of the enterprise, a three shift system must be implemented, including technicians, laboratory technicians, craftsmen, and workers.
Marking, sales, and transportation
The national standards for milk and dairy products are the highest. The quality of raw materials is constrained by existing regulatory documents, and milk is considered a processing material. A dairy product labeling system must be added, otherwise production and sales activities cannot be carried out. Perform advanced electronic signature on the organization leader, install electronic signature software, and register in the monitoring system.
The transportation of raw materials to the factory and the buyer also have requirements, and the tank and refrigerated box must be intact and clean inside and outside the container. The product packaging meets industry requirements. The delivery time is in the morning, which is clearly related to the short storage time of milk and dairy products.
Before the establishment of the company, it is very important to understand the market and the products that are lacking in your region: this will help you find direction in the product range. The pre established product sales plan will accelerate production and achieve profitability. Usually, restaurants, cafes, and small shops purchase milk and dairy products. You can try selling your products in the market or organizing your own store during the production process.

How much does entrepreneurship and monthly expenses cost
To establish a fixed or modular small factory that can process around 1000 liters of raw milk per shift requires a significant investment (depending on equipment selection and shipping costs, etc.). Most of the funds will be used for enterprise design, equipment procurement, installation, and engineering construction. Think about it: Do you have a great heating chamber, or do you need to build a new one? Would you choose simple equipment or purchase standard modular projects from equipment already insulated in the winter exhibition hall?
Staffing required; The number of them depends on the equipment purchased and the range of products, but in any case, two shift work are expected to work. Be sure to find a cleaner. Monthly expenses used to pay for utilities, employee labor, and recurring expenses, including the cost of transporting products to sales locations, can reach up to $20000. The investment at the start of the project must be recovered within one year or one and a half.

Business status
If you want to produce dairy products in your mini factory, professionals suggest that you register a limited liability company. This legal form has its advantages: a limited liability company must have legal capital, which will become a guarantee for investors, especially if you start business from scratch. The debt of a limited liability company only incurs losses within the statutory share of capital. The more employees, the more attractive the tax reduction becomes. Therefore, all insurance premiums paid for oneself and employees can be recorded as expenses, thereby reducing tax expenses.

Beyond Machinery specializes in the design and manufacturing of milk processing production lines, with rich experience and advanced technology in different markets. We can customize milk processing production lines according to customers' actual needs. Contact us immediately to obtain professional milk processing line solutions and quotations.