Mango processing line Mango juice production equipment mango processing machine
Mango is planted all over the world. It is a kind of fruit with high nutrition and high value. We design and manufacture a complete set of mango pulp processing machinery to produce high-quality mango juice and puree, whether it is single concentration or concentrated. We can provide a complete mango processing plant and a single machine to meet specific requirements.
Washing and classification of mango processing line
Before mango processing, we need to clean and select all mangoes to prepare for the next mango processing process. Mango is fully cleaned during seed transportation to remove various impurities on the epidermis.
After cleaning, mangoes are classified by machine and manual, and mangoes of similar size are selected. The staff can effectively check the mangoes.
Fruit washing machine in mango processing line: rotating brush can remove any foreign matter and dirt attached to the fruit.
Sorting and cutting on our belt sorting line. We have recently installed a mango processing plant, which is configured to process mangoes and pineapples.
Mango and pineapple are cleaned by rotating nylon brush and shower in our new bubble cleaner.
Peeling and coring of mango processing line
Mango peeling machine is specially designed for automatic peeling and peeling of fresh mango: by accurately separating the core and peel in the pulp, the yield and quality of the final product can be maximized.
The unrefined mango pulp is sent to our single-stage pulper super reamer, which refines the mango pulp to the required level while ensuring low air absorption and therefore low oxidation.
For enzyme inactivation, mango pulp can be sent to the tube preheater, which can also be used to preheat the unrefined pulp before it is refined by the super reamer to achieve higher yield.
Centrifugal decanter can be used to eliminate black spots and further fine desilting.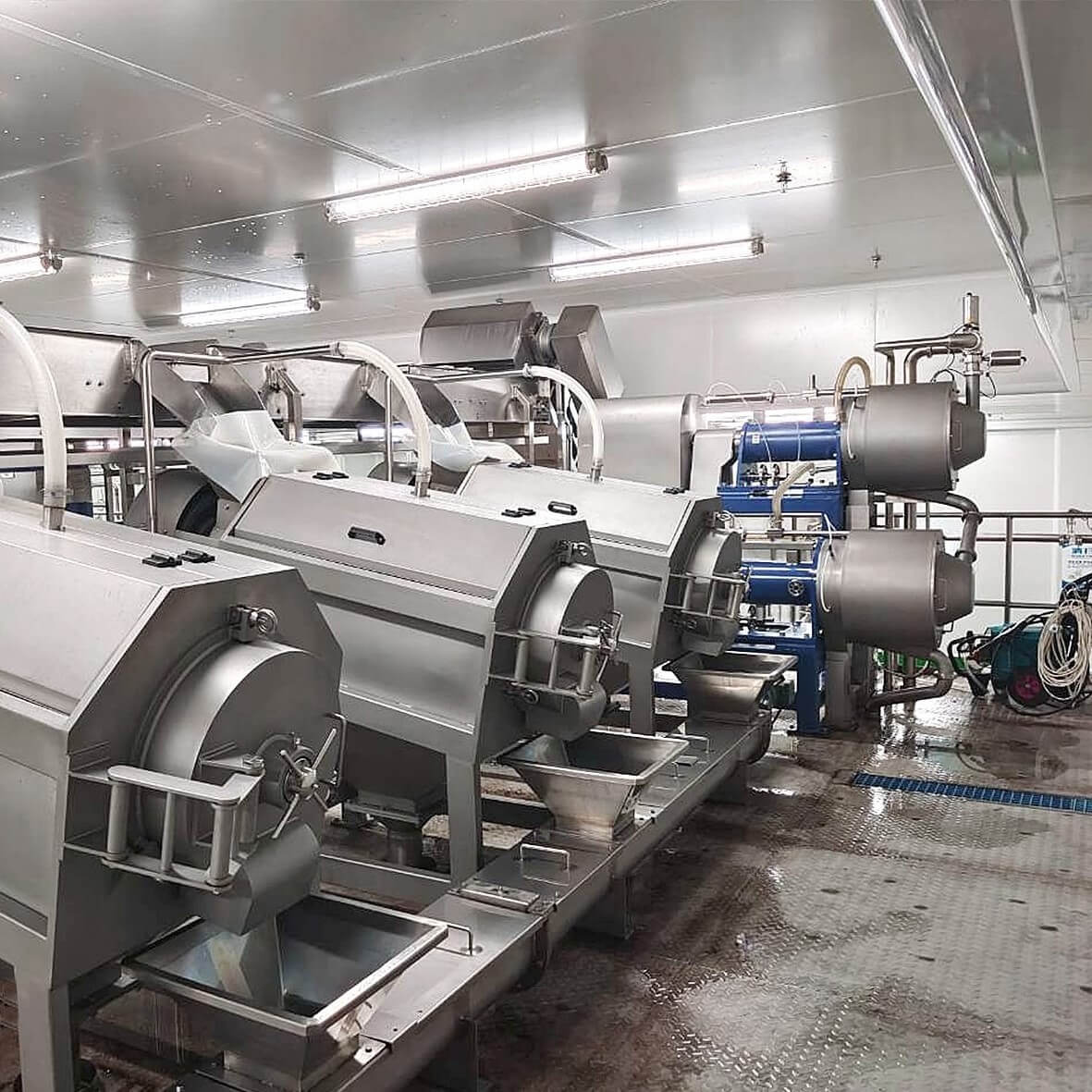 Degassing or concentration
The final product of our mango processing line may be natural puree or concentrated puree.
In the first case, the natural fruit mud is sent to the deaerator to remove the air in the product, thereby extending the shelf life. In order to avoid oxidation, desorption was performed by atomization under vacuum. The aromatic vapor can be condensed by the aromatic recovery unit provided with the dealciner and directly added to the product.
For concentrated puree, the refined puree is pumped to the membrane continuous evaporator. The versatility of our sweeping evaporators is unparalleled: they can easily handle low or high pulp juices, delicate or heat-resistant juices, and low or high viscosity juices. Residence time is one of the shortest possible times and concentration is achieved in a single channel.
Sterilization and filling
Mango puree, concentrated or natural single concentration, can be sterilized or pasteurized by in tube sterilizer / pasteurizer according to the specific requirements of the application.
After sterilization, mango products can be packed in sterile bags, barrels or boxes due to the sterile packing equipment of mango processing line.
Mango processing line flow
Mango - > washing - > sorting - > brushing - > removing stains - > pulp - > refining - > enzyme inactivation - > final mud removal - > concentration - > sterilization - > aseptic filling - > esterification concentrated mango mud
Mango processing line Factory cleaning
All mango processing production lines are designed according to international food grade requirements and are completely cleaned through integrated cleaning procedures and systems or centralized full-automatic CIP systems. So that the equipment of the mango processing plant can continuously circulate and achieve the best production efficiency.
The mango processing line can be designed, manufactured, installed and commissioned according to the needs of customers, so that your mango processing plant can realize a one-step rapid construction process.