We have many years of experience in the beer production equipment industry. We provide a complete set of beer production equipment, including malting, saccharification, fermentation, filling, sterilization, labeling and packaging. The capacity ranges from 2000L to 200T, which can meet the needs of small commercial breweries and large industrial breweries. Our equipment is highly efficient and energy-saving, making your production process simple and controllable. It can produce any type of beer and help you quickly occupy the market.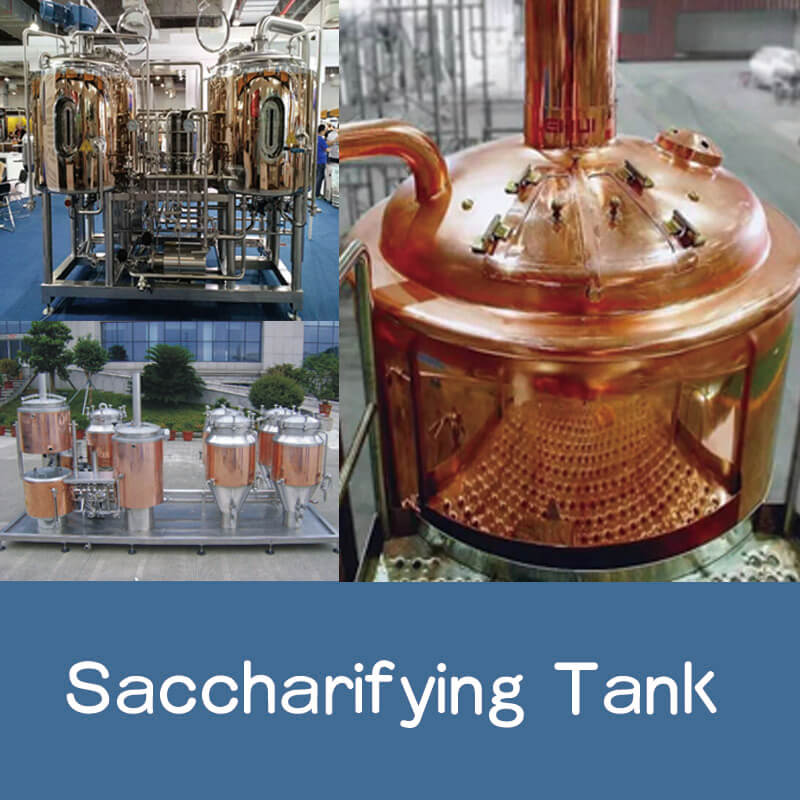 Characteristics of beer processing line
All our brewery equipment is made of high quality stainless steel. They have good wear resistance and meet the requirements of equipment. POSCO Stainless Steel Certification.
For welding, we adopt the most advanced welding method, which makes the joint more beautiful and firm. After welding, the internal polishing will be polished to 0.4 μ m. No dead space. It is important that we conduct pickling to avoid rust and prolong the service life of the tank.
We have adopted an electrical control system on the production line to more accurately control the temperature of the saccharification tank and fermentation tank, which can be used on the mobile phone APP or remotely controlled.
Equipment of beer processing line
Various container combinations and many containers: multi-functional tank (mixing kettle launder, kettle vortex), single process tank (mixing tank, launder, boiling kettle, vortex, hot/cold water tank);
Full piping and wiring, including valves and sensors; Integrated pump system;
CIP system: independent CIP of separate storage tank to prevent cross product interference;
The main interface control system (touch screen control panel), stairs and platforms combine the container into a compact unit, and the perforated and segmented structure of the walkway on the surface ensures that sliding is prevented;
Automatic cleaning, automatic water mixing
High quality thermal insulation effect: rock wool
Beautiful welding and polishing: full argon shielded welding.
The world's top brand of electronic components.
Wear resistant material: inner sheath (SUS304)
Fermentation device: standard stainless steel conical and cylindrical fermentation tank; The number of cans is calculated accurately according to the fermentation cycle of various beers; Including all manholes, valves, pressure gauges, accessories, etc.
Bright pot device: standard stainless steel bright pot, used for beer maturation, regulation, service and carbonation; The number of cans is accurately calculated for various beers and functions; Including all manholes, valves, stones, instruments, accessories, etc.
Cooling device: insulated glycol water tank, with or without copper coil for glycol liquid retention and mixing; High efficiency refrigerator provides cooling energy; Sanitary centrifugal pump for circulating glycol water between storage tank and heat exchanger; Including all pipes, fittings and insulation materials.
Control unit: electrical control cabinet with temperature for brewing switch control; Electrical control cabinet with switch control of temperature and cooling components; Including temperature controller, thermocouple, solenoid valve, etc; PLC with touch screen panel for special requirements.
Advantages of beer processing line
Perfect patent design, including beer equipment and filling machine, all of which have passed CE certification.
For your turnkey project, we only need to provide an installation team to install the entire project. We have agents in many countries in the world. Therefore, we can provide equipment and services at any time.
Use of beer processing line
Our beer processing lines can be designed and manufactured according to the needs of customers. The beer processing lines are mainly used in medium-sized and large craft breweries for beer production. For retail industrial breweries, equipped with industrial brewing wort machines and modern professional beer production equipment, such as cylindrical and tapered beer fermenters or open fermenters, automatic cooling systems, cleaning and disinfection systems, can be used to produce all known types of beer. The main part of the brewery is the stainless steel wort brewing machine. Its industrial design is simple, aiming to maximize the working efficiency and production capacity of the brewery.