Usage: The tooth crusher is mainly used for breaking up apples, pears, tomatoes, carrots and other materials.

Characteristics:
This machine is composed of cleanging tube,sight glass,crushing tooth plate,three section cutting knife,tensioning device,driving part,discharging plate etc. The food crusher machinery has some features such as light in weight, low energy consumption, good quality, long life and easy to clean.
Main features:
1、The frame adopts a frame structure welded by stainless steel thick plates with good overall rigidity. The whole machine is a fully enclosed structure except for feeding and discharging, and has good safety protection performance.
2、By replacing the sizes of the sieve mesh, it can adapt to crush different fruits and vegetables, and has a wide range of usage capabilities.
3、The whole machine has compact structure, small coveringspaces, reliable operations; optimized design for various components, easy to clean and replace.
4、All stainless steel manufacturing, in accord with food hygiene standards.
5、It Can be installed on the assembly line, automated production, lower labor intensity.

Components of the equipment
:
The equipment is mainly composed of frames, gears, screens, bearings, motors, transmission shafts and other components (see attached picture).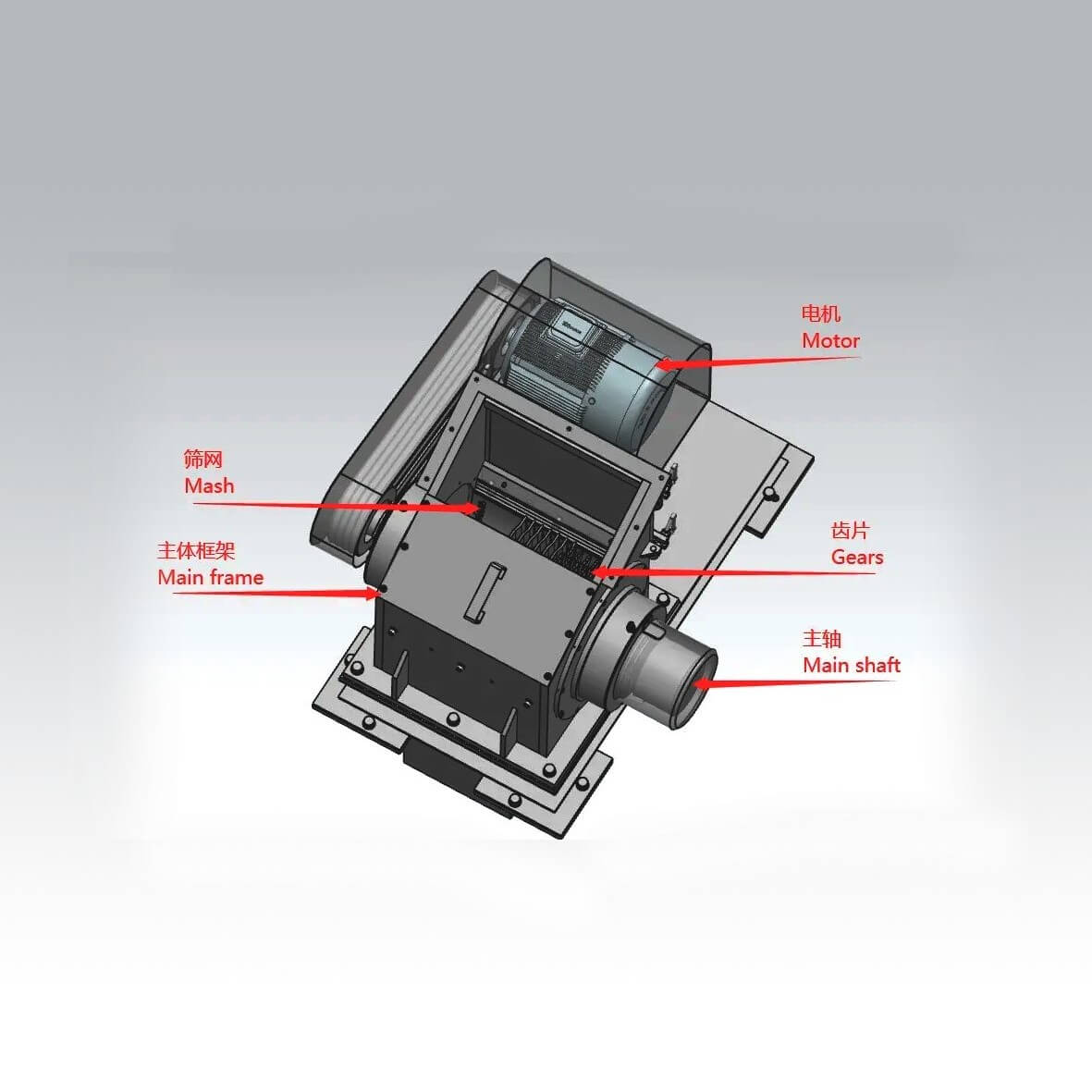 Working principles:

The working part of the crusher is a lot of gears installed on the turntable according to certain rules. When the turntable rotates, the gears will generate a large centrifugal force due to the rotating force. When the material is ransported from the upper process to the crusher's hopper , And then enter the crushing chamber and crush it under the action of centrifugal force. At the same time, the impacted fruits collide with each other and the screen of the machine ining, which also promotes the crushing of the material to reach the crushing particle size required by the customer.
The structure is simple, the size is compact, the weight is small, the power consumption per unit product is small, the productivity is high, the crushing capacity is large, the particle size of the product is small and even in shape of cubic, and the phenomenon of excessive crushing is less;
Technical parameter:



Description

Outer dimensions(mm)

(L*W*H)

Tooth sizes(mm)

Power(kw)

BYCSPSJ-2

Material 304,shell,gear plate,screen,transmission device

L1620 X W475*H658

350X100

3

BYCSPSJ-5

L1820 X W475*H658

350X100

5.5

BYCSPSJ-10




L2100 X W475*H658

350X100

7.5
Safety warnings:
This equipment is a crushing machine. The operating procedures must be strictly followed in use. Hands, feet and other objects (such as sticks) must not be touched or even inserted into the rotating crusher when the equipment operating in case serious personal and equipmentsafety accidents!
Feedback form contact with us